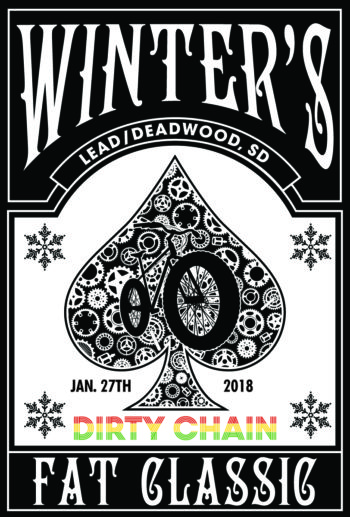 THE BASICS
Race Information
Date: January 27, 2018
Time: 5:00 pm race start for all riders
This is a "night" race of 24 miles that will begin at 5:00 pm. This will be a unique racing experience so be ready for winter riding conditions! Deadwood has an average high of 33 degrees in January and chilly 10 degree lows.  Snow may or may not be a factor.

Packet pickup will be at the Deadwood Mountain Grand Hotel in the Prospector Room between 12-3:30pm January 27, 2018.  The Grand is located at 1906 Deadwood Mountain Drive.   

Riders meeting will be at 4pm in the Prospector Room as well. 

Mandatory Items:
Front headlight

Rear tail light

Helmet

Fat bike tires (3.5" or larger)
Layered clothing, winter gloves, and head covering under helmet.

Riding in similar conditions to get a feel for what to expect and what gear you will need.
Bike parking – park your bikes before and after the race in the secured bike parking tent located at the Grand in the covered parking lot. This will have 24-hour security.
Course details and instructions:
Riders will begin on Main Street in Deadwood, SD under the arch.  Many amazing historical characters have walked in the valley you will be riding in!  There will be a neutral start over the cobblestone streets leading riders to the beginning of the Mickelson Trail.  This is where racing begins!!  You will be on groomed trail until you reach Lead, SD.  There will be a mandatory "hold your position" section for rider safety for ~1 mile coming through downtown Lead, SD.  Racing can commence once riders reach the trail system again.  The race will end at the Mickelson Trailhead in Deadwood. The course will be well marked.
There will be a hot chocolate "aid" station (there will also be water) that you will pass by twice, once at approximately mile 10.5 and again at mile 17.5. When you get to the aid station the second time, at that point riders will cross over highway 85 to reach the groomed Mickelson Trail towards Lead.   This will take you to main street Lead to the four way intersection. Here you will take a right and head down historic main street for one mile.  You will take a left on Grandview St to the dog park.  This is the trailhead for the Homestake Trail.  There will be volunteers here to make sure you find the trailhead.  You will ride the Homestake Trail for 3.3 miles and then take a left towards the Mickelson Trail.  From that point, it is a quarter mile sprint to the finish line!  
We will have more detailed information at the riders meeting with an opportunity for Q&A.
Awards ceremony, raffle, after party:
After the race, riders will be invited back to the Grand for the after party and awards ceremony.  Food, beer, and music will be provided as a part of your race entry!  Music will begin at 7:30pm with awards ceremony beginning at 8:00pm.  Raffle for swag will be after the awards ceremony.  Awards will be hand crafted by the Mind Blown Studio at the Pump House and given to the following categories:
*top three men 39 and under
*top three men 40 and over
*top three ladies  
 Good luck riders!